6 Food-Inspired Pool Floats You Need for Summer
You're going to want all of these.
Each product we feature has been independently selected and reviewed by our editorial team. If you make a purchase using the links included, we may earn commission.
Credit: Photo: Courtesy of Always Fits
The weather is turning warmer, and before you know it, we'll be at the unofficial start of summer. Spring break beach trips, summertime float sessions, and relaxing vacation pool-stays all need great floats.
Giant Avocado Pool Float from BigMouth, Inc.
$25, AlwaysFits.com
The Internet's favorite food has made its way poolside. Slip into the avocado pit, and let your worries float away. Each float is over five feet long and comes with a patch kit.
Have the Last Splash Pool Float in Lobster
$55, Modcloth.com
Big, red, and lobster-shaped: three of the best words that could ever be used to describe a pool or ocean float. Use the lobster's claws to spread out your arms, and fade away into the hum of the ocean's sounds.

Inflatable Pineapple Pool Float from Sunnylife
$30, amazon.com
Pineapples are sure to be the next "trendy" fruit. After all, what's sweeter than a pineapple? At over 6-feet long, this is one giant lie-on relaxation device. There's even enough room to add a bowl of your favorite fruit so you can float and dine.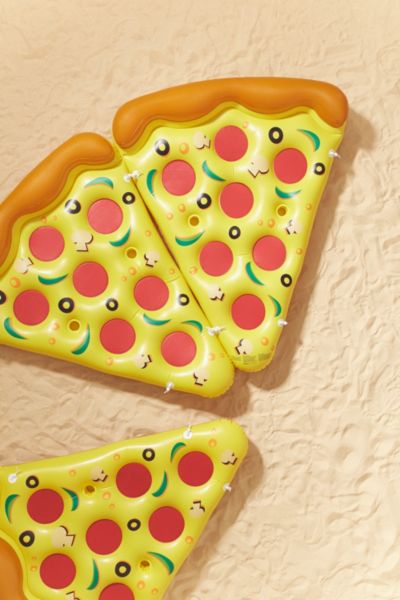 Pizza Slice Pool Float
$48, UrbanOutfitters.com
Combine two of summer's best past times: pizza and pool parties. This slice is all for you, but at six-feet long, if you wanted a few of your friends to float with you, there's room. Better yet, buy eight, and the whole gang can hang to create a whole pie.
Giant Inflatable Watermelon Pool Float from Tropical Floats
$12, Amazon.com
Watermelon is synonymous with hot days, so it should come as no surprise that a plethora of watermelon pool floats are available. This is our favorite watermelon float option because of the two-sided decoration: red and seeded on top, green and striped on bottom. With a 42-inch diameter, this float is made for laying back and relaxing.
Giant Double Cherry Pool Float from BigMouth, Inc.
$30, Target.com
You and your sweetie can float hand-in-hand on these intertwined cherry floats. If you're not in the mood for sharing, the cherries are all yours. At over four-feet wide, there's plenty of room for a party of one or two.